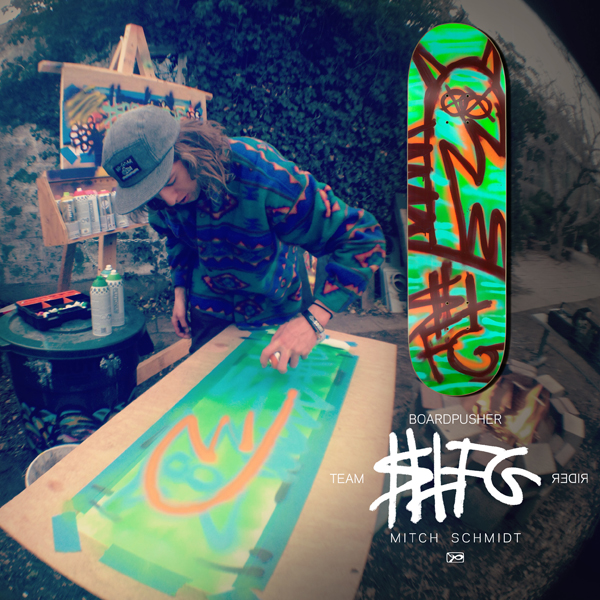 Mitch Schmidt is a guy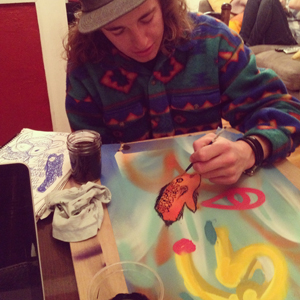 consistently on the move. Forever on tour, when he made his way back through Colorado, we shackled Mitch to our art dungeon, threw a few canvases at him and armed him with a handful of different art supplies. Mitch busted out his sketch book, scanned through quite a few long standing deck ideas, and got to it.
Inspired by his passion to constantly create (and possibly his obtainable freedom), Mitch knocked out quite a few graphics in a short time. We scanned the designs and let Mitch and our Art Director touch up a few things digitally and now BoardPusher team rider Mitch Schmidt has his own line of self designed skate decks up in the BoardPusher.com store. You can snag Mitch's decks here.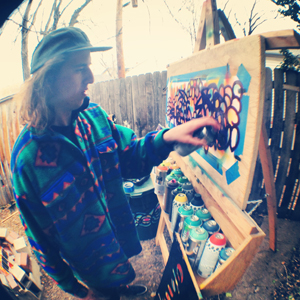 We asked Mitch to shed some light on the $TFG mentality, "It was something that sort of came about when I first started taking skateboarding a little bit more seriously. My friends and I would just sort of yell out 'Shred the fucking gnar!' or 'Skate the fucking gnar!' whenever we were out skating. I started spray painting it on my grip tape and where ever I went other skateboarders would start saying it to me. Eventually, other kids I skated and filmed with began adopting it, too, and it kind of turned into our own skate crew."
Mitch also elaborated a little bit on the $TFG monster (top image),"The monster just came from a sketch that I had and the want to create a simple character to represent shredding the fucking gnar. It was something that I could spray paint quickly and attach to the $TFG tag and it just evolved into sort of a mascot."
Check out Mitch Schmidt's $TFG line.