Featured Deck of the Week: First Troy by Robert Gruman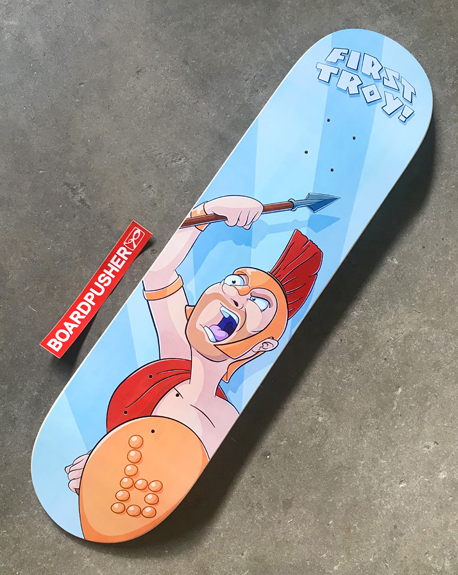 Inspiration comes from any and everywhere. Robert Gruman was inspired by how Aaron Kyro of the Braille Skateboarding YouTube channel shouts "First Try!" when someone lands a trick on their first attempt. Robert created this week's BoardPusher.com Featured Deck, slapped a caster on it, called it a "swivel board", and sent it to Braille for their "You Make It, We Skate It" segment. The results are pretty funny, but also really impressive and you can watch that unfold below. Find more of Robert's design work at robertgruman.com or follow him on Instagram @robgruman.
Upload whatever crazy ideas you may have at BoardPusher.com and we'll put them on a custom skateboard for ya.
Related Articles
Wayward Soul just dropped their Rebellion skate video, and to celebrate, this week's BoardPusher.com Featured Deck is the pro-model of[…]

Levi Huffman designs another skateboard using the new BoardPusher.com draw technology. Try it for yourself at BoardPusher.com/draw. Filmed and edited[…]

Follow along with Levi Huffman as he uses the newest technology from BoardPusher.com, the leaders in skateboard customization, to draw[…]