Featured Deck of the Day: Wilson's a Good Boy by Todd Williams w/ Jeff Nass Background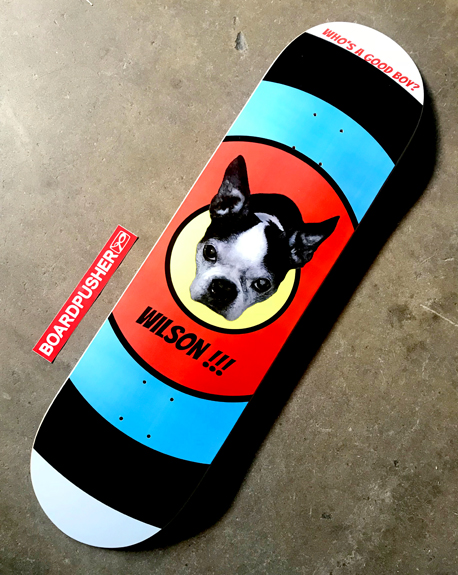 Today's Featured Deck was created by Todd Williams using one of the customizable backgrounds available at BoardPusher.com, this one uploaded by photographer/designer and good friend of the company, Jeff Nass. Todd found the whole process incredibly smooth, "Getting this beauty made for my friend was so easy it was almost too good to be true. 5 minutes in photoshop, 5 minutes on your website and voila! A sweet custom deck that brings smiles wherever the wheels are up. I was super impressed with the quality and clarity of the deck graphic." Find more of Jeff Nass's skateboard graphics, all of which are also available as custom backgrounds, at BoardPusher.com/shop/jeffnass.
Upload your own images and add text to custom backgrounds when creating your own skateboard graphic at BoardPusher.com.