Design Levi Huffman's Next Deck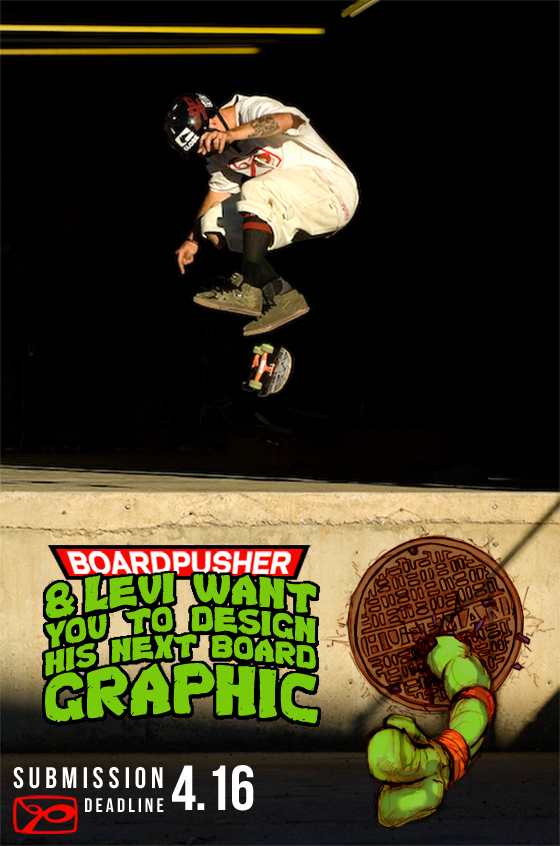 BoardPusher sponsored rider, Levi Huffman, is looking for a new deck design and we're looking to you to create it for him. Levi will hand pick his favorite design and it will be featured in various media outlets with your name attached to it. The best part is you will receive a free deck with your design. And now to get a feel for the person you are designing for, here's some info about Levi Huffman:
HOMETOWN
Wheat Ridge (White Rich), Colorado
SETUP
8.0″ BoardPusher Levi Decks, Indy Trucks, BoardPusher and Diabolical Wheels, Black Panther Bearings.
HOW LONG HAVE YOU BEEN SKATING?
My mom bought me a skateboard for my 1st birthday so I have pretty much had one around my whole life. My friend David's big brother Doug got us really into it. He's the one that made it look like fun to me. Now I have been skating seriously for about 11 maybe 12 years.
INSPIRATION
Living, my daughters Stella & Ravenna, and the rest of my Family.
FAVORITE TRICK
My favorite trick would have to be a Benihana because a lot of people hate on that trick and not many people do them.
ADVICE FOR YOUNG SKATERS
Skate for Life and love every second of it. Don't take anything for granted. Always wear a helmet it could save your life.
FAVORITE VIDEO
The End.
OTHER SPONSORS
Bern, Globe, Lit Apparel, Diabolical Skate Shop
ODDEST SKATE SPOT
Work after hours in the warehouse. Couldn't resist the pushcart and other goodies to grind.
STRANGEST MOMENT ON A SKATE TRIP
Coming out of The King of The Road party and into a scene out of a B Theater Movie. Crazed street bum had a knife out and was going after Daewon Song as our wheel man Vendola was taking the bum from the side. It was very strangely surreal.
FUNNIEST MOMENT WITH A BOARDPUSHER EMPLOYEE
(As I asked this I thought about getting nailed with a spit wad during Levi's entrance today.) I don't know, too many antics to count.
FAVORITE CARTOON THEME SONG TO SKATE TO OTHER THAN TMNT
(No answer, just continuously played theme songs from his phone ranging from Rescue Rangers to Ren & Stimpy. Then a challenge ensued over how fast we could recognize sitcom theme songs.)
CLASSIEST REST/TRUCK STOP EXPERIENCE
One road trip I got stuck in a driving daze and was the only one who could drive. Pulled in to get a cup off coffee and lost $50 somehow in the process. Most expensive cup to date.
BEST HISTORICAL FIGURE NOT KNOWN FOR ART THAT WOULD MAKE THE BEST SKATEBOARD GRAPHICS
Buffalo Bill due to his gnarly beard and endless supply of blood to paint with.
LEVI RANDOM FUN FACTS
Can't smell, can only taste hot sauce, Funyuns are a favorite snack, likes lasers, but not the womp womp, doesn't know what a "Skrillex" is, has a tattoo of a Ninja Turtle to show his undying love for TMNT, has never worn Levi's, has a taxidermy Bongo that ended up being the centerpiece of his basement bar.
Watch Levi Tear It Up
[youtube http://www.youtube.com/watch?v=TwCtd9D16TY]
NOW THAT YOU KNOW LEVI BETTER HERE'S HOW TO ENTER
1. Upload your design on an 8 inch deck here.
2. Click "Finish Deck" and paste the link to our facebook page.
LINKS TO DESIGN SWAG
Feel free to use any, all, some, or none of this to aid you in your design for Levi's Graphic. We have included links to some BoardPusher logos if you decide to go that route, but we don't want you to think that you have to use them to win. Designing for Levi's size of an 8 inch deck might help though.
2. Boardpusher full logo on Black
3. Boardpusher full logo on Clear
4. Boardpusher BP logo on Clear
Entries must be submitted by April 16th.
Good Luck and have fun, cause Levi always does! He is stoked to see what YOU come up with!
BoardPusher
forward to a friend | Facebook | Twitter | Google+ | Tumblr