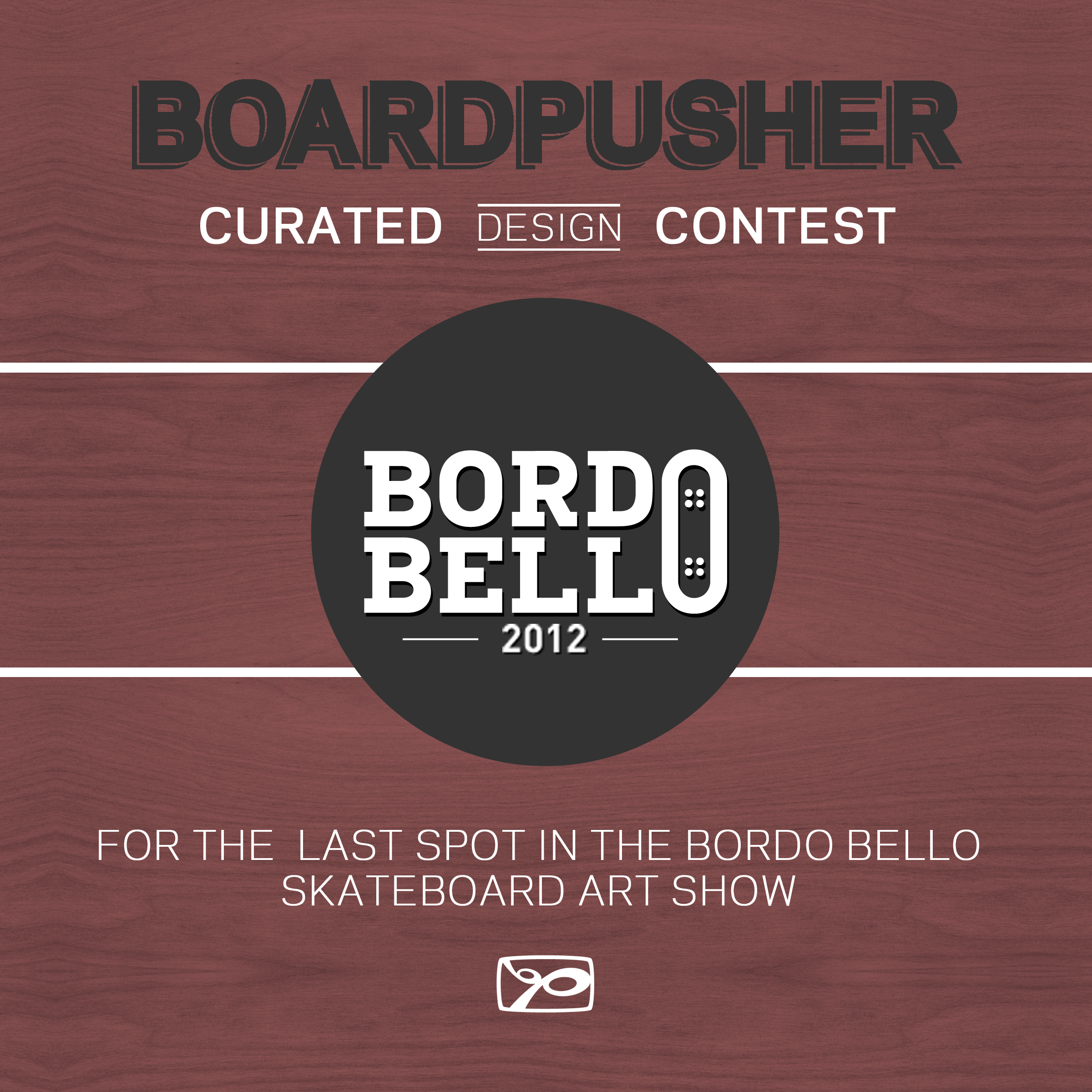 Want to be in the Bordo Bello Skateboard Art show?  Well, here's the deal: BoardPusher has curated the last spot of the art show and we've decided to have a design contest for it.    The winner we choose will then get that last spot and be included in Bordo Bello.  Artist registration is already closed so this is now the only way you can participate.  Also, you get to skip the registration fee.
There's a lot of details so listen up.
First you might want to get a template to create your graphic on and you can get that here www.boardpusher.com/BP/help/design-help.aspx or here www.boardpusher.com/bp/decktemplates/7_3-4_300.jpg.

All contest entries are going to be on the 7 3/4 popsicle shape decks so when you go to upload your design here www.boardpusher.com/BP/designmake sure you choose the 7 3/4 deck.

Once you've uploaded your graphic by clicking "ADD IMAGE" and made the necessary adjustments to make sure it's on the board exactly how you would want it to be printed, click on the "finish" tab.

After you've done that you need to do one of 2 things to officially enter your design.  Either copy and paste the URL to our Facebook page or click the tweet icon.  Clicking the Facebook like tab will only send it to yourFacebook page and we won't be able to see your entry.

There is not a limit to how many submissions you can enter.  Please don't make us regret saying that by flooding us with hundreds of designs that are essentially the same.
If you are a shop owner you cannot submit a design that is for sale.  This also means that if you make a new design you cannot add it to your shop to be sold either.  Bordo Bello wants an original design made specifically for this show.
The BoardPusher staff will then pick our favorite design and will include it at Bordo Bello.
The deadline for contest entries is Saturday August 25th so get to it!