To help you get you rolling right out of the box we've added some new wheel options for you to choose from when making your BoardPusher.com custom skateboard a complete. To celebrate we're offering $10 off ALL* complete skateboard orders with coupon code COMPLETED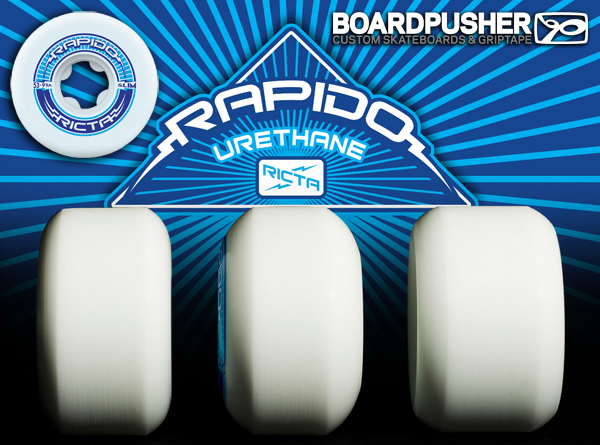 First up we've restocked our shelves with Ricta Wheels and 3 different sizes of their Rapidos: 51mm, 53mm, and 54mm. Ricta has been in the urethane game since 2000 with a team that includes skateboarders Nyjah Huston, Brandon Westgate, Clive Dixon, etc. and a formula that is one of the most flat spot resistant wheels in the industry.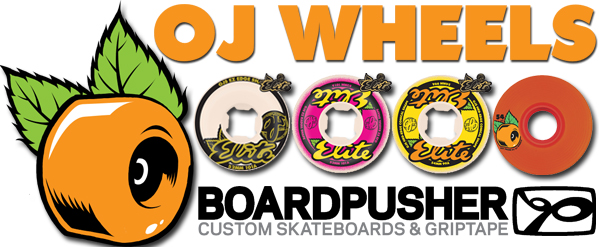 Next we've got some new OJ Wheels in our arsenal. We added three sizes of their Elite series: 52mm, 53mm, & 54mm. If you prefer cruising with a softer wheel we also now have 54mm 87a Keyframes. OJ's been a respected name in skateboarding since the 80s and have experience in all facets from transition, street, park, bombing hills, and filming with a team that includes Ben Raybourn, Axel Cruysberghs, Fred Gall (one of our favorite old new schoolers), etc.
To view all of the wheel options avaialbe at BoardPusher.com go here and remember to use coupon code COMPLETED to get $10 off ALL* complete skateboard orders.
*Not valid on Bulk Orders of 10 or more.