THI3D THURSDAY Skateboard Design Contest: Tattoo Art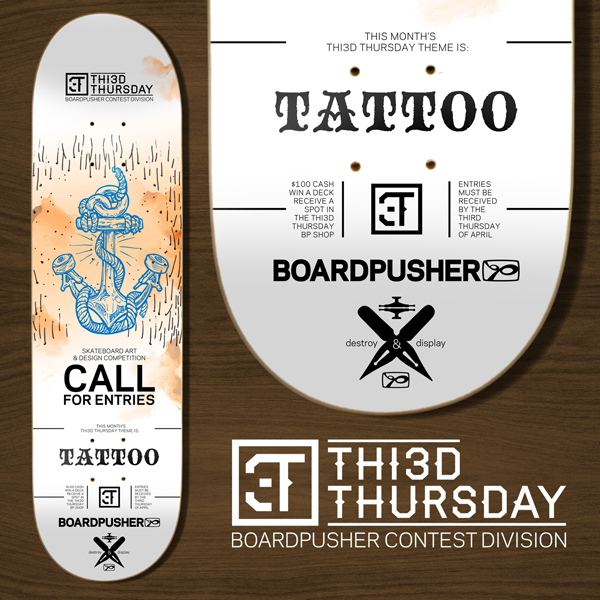 Spring is here which means it's time for shorts and cut off sleeves so you can brandish your ink, but more importantly, perfect skateboarding weather is all around us. For April's THI3D THURSDAY Skateboard Design Contest we are going to combine the two.
This month we would like you to design skateboards using traditional tattoo art. This doesn't mean we want photographs of your tattoos on a skateboard because we don't. We want to see skateboard graphics depicting the artistic style of tattoo art. Whether that means nautical themes, sugar skulls, pin up girls, etc. is up to you. Maybe you want to be progressive and do a fresh take on a traditional style, that mentality is welcomed as well. Just make sure your design incorporates the theme in some way for it to be considered a valid entry.
All entries must be received by Thursday, April 17th. What's up for grabs is your graphic printed on a skateboard, $100, your design will be featured in the BoardPusher THI3D THURSDAY shop, and a limited run of 10 decks with your graphic on it available to the public. See past winners here. Check out the BoardPusher.com Contest Division to get started on uploading your entry. For full contest rules and detailed instructions on how to enter head over to www.BoardPusher.com/contest. GOOD LUCK!