THI3D THURSDAY Skateboard Design Contest: First Love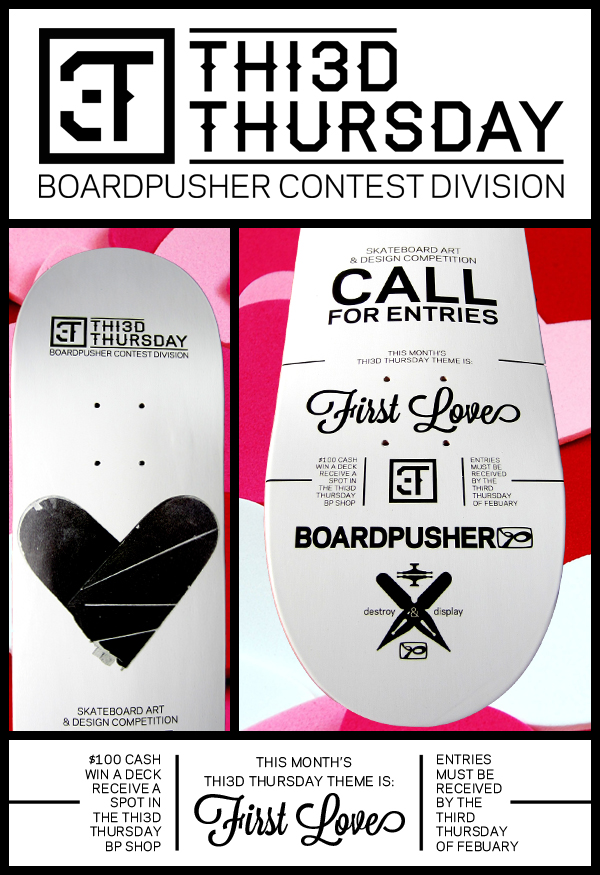 We promise to get all caught up on THI3D THURSDAY entries from past contests, but we're going to get you started on another one. For this THI3D THURSDAY we want to know about your first love. This doesn't have to be about your boyfriend or girlfriend, we're just looking for you to design a graphic about a love that first inspired you. It could be a graphic depicting what got you into skateboarding or art, or a design that illustrates what first ignited one of your passions, or if your first love from a relationship is what sparks your creativity then, by all means, submit a skateboard graphic inspired by it. We want to see that first influence that drives you.
All entries must be received by Thursday, February 20th. As always, what's up for grabs is your graphic printed on a skateboard, $100, your design will be featured in the BoardPusher THI3D THURSDAY shop, and a limited run of 10 decks with your graphic on it available to the public. Check out the BoardPusher.com Contest Division to get started on uploading your entry. For full contest rules and detailed instructions on how to enter head over to www.BoardPusher.com/contest. GOOD LUCK!