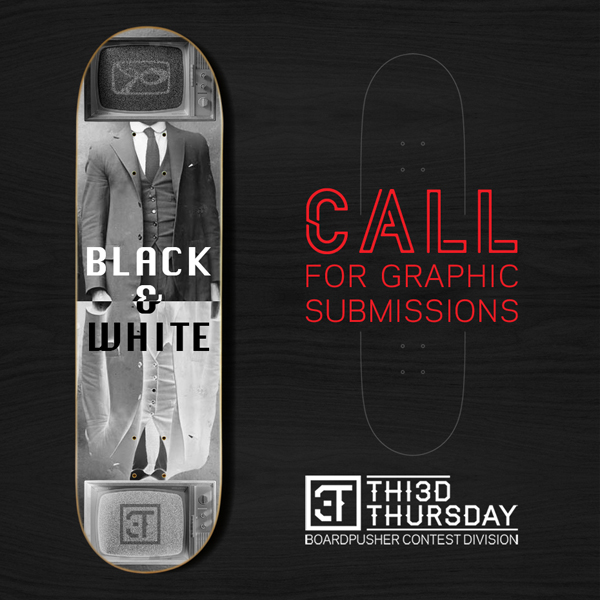 For October's THI3D THURSDAY Skateboard Design Contest we would like to see you get back to the basics. This month we are looking for artists to simply create a BLACK & WHITE skateboard graphic. Toss out the color spectrum and bust out your ink pen, black and white film, or just work in the gray scale to design something raw and primal.
All entries must be received by Thursday, October 16th. What's up for grabs is your graphic printed on a skateboard, $100, your design will be featured in the BoardPusher THI3D THURSDAY shop, and a limited run of 10 decks with your graphic on it available to the public.
In addition, we are proud to announce Sk8ology.com will be sweetening the THI3D THURSDAY Design Contest winning package with a Sk8ology Deck Display. Sk8ology's Deck Displays allow skateboarders, collectors, fans, and artists to exhibit their skateboards as pieces of art. Learn more about Sk8ology at www.sk8ology.com.
Check out the BoardPusher.com Contest Division to get started on uploading your entry. All entries must be received by Thursday, October 16th. For full contest rules and detailed instructions on how to enter head over to www.BoardPusher.com/contest. GOOD LUCK!