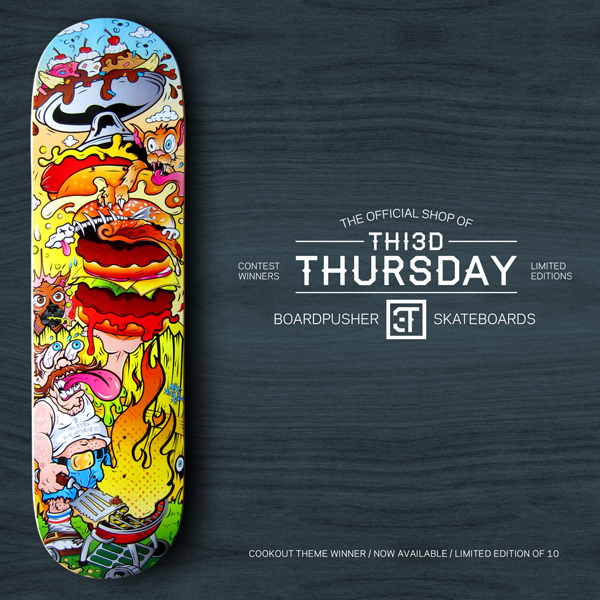 Congratulations Mike Richardson

The winner of the BoardPusher.com "COOKOUT" THI3D THURSDAY Skateboard Design Contest is "The Tailgater" designed by North Carolina artist Mike Richardson. He will be receiving his winning graphic printed on a skateboard deck and $100. Mike "grew up being inspired by lowbrow artists like Robert Williams, Ed "Big Daddy" Roth, Jim Phillips, and Dirty Donny." The idea for the graphic came from "a story a friend was telling me that involved a giant hamburger that was topped with brats and other random items during a tailgating event for a football game. With that in mind, I thought it would be funny to bring to life the most ridiculous, towering backyard burger that any grill-master would be proud to forge from a bed of hot coals and flames!" You can see more of  Mike's designs at www.behance.net/rebelsoulstudio.
"The Tailgater" is now available alongside other winners in the BoardPusher THI3D THURSDAY shop where a limited edition of 10 boards with this graphic are now available.