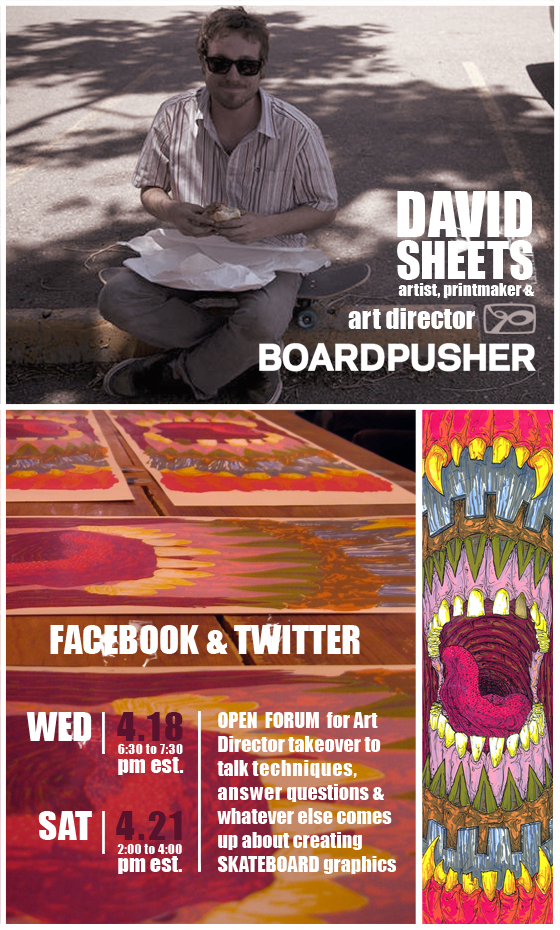 Ever have an idea for a graphic, but needed help on how to pull it off?  Maybe you've had questions about one or several aspects of making skateboard graphics in general.  Ever just wish you could talk to an Art Director about it?  Well you are in luck!  BoardPusher Art Director, David Sheets, wants to get a conversation started and lend you a hand.  This week Wednesday April 18, from 6:30 to 7:30pm EST, and again on Saturday 2:00 to 4:00 EST Dave will be logged into our Twitter and Facebook accounts for our "Ask the Art Director Take Over."
No subject will be too taboo or too complex.  We'd just like to get an open forum going with your questions and ideas and see where it goes from there.  It's up to you to decide what your graphics are, we just want to give you the knowledge to make them look the way you want.
We can't make any promises of what will happen, but we look forward to seeing what does.  Remember, the ink gets spilled starting Wednesday.
Cheers,
Boardpusher staff
(especially the Art Director)