Get Your Custom Skateboard Faster w/ BoardPusher.com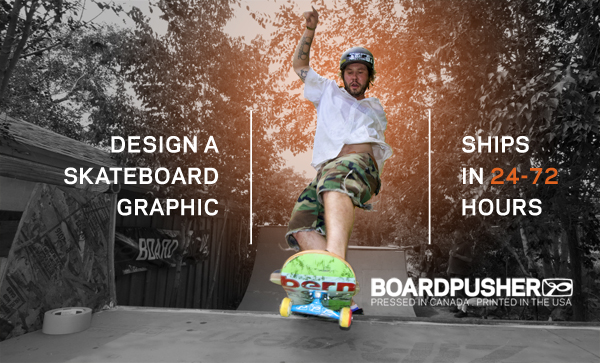 Did you know BoardPusher.com orders are produced and shipped out to you in 24-72 hours? Nearly all US ground shipping orders arrive within 2-3 days, too. This is perfect for all you impatient skaters living in our fast paced world or the procrastinating, but thoughtful gift givers. School is starting up again and we're sure you could use a new custom deck to push around between classes. We'll get it to you QUICK!.
We have also upgraded our international shipping and that's really good news for the Canadians and Brits. Many of your orders are arriving within 3 days or even sooner. So, quit stalling and order your latest creation on BoardPusher.com and you'll have a high quality deck with your graphic before you can even begin thinking of your next design.