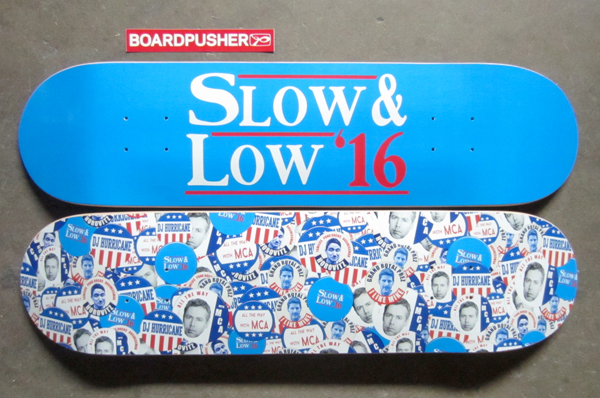 Probably safe to say we all want more, or at least better options for 2016. We are totally down for "Slow & Low '16". This week's BoardPusher.com Featured Decks were created by Thomas Jacobs of The Delta Bravo Urban Exploration Team. "These decks were made for the gallery at MCA DAY 2016 in Brooklyn. MCA DAY is an annual celebration of the life and music of Adam "MCA" Yauch and the Beastie Boys. MCA DAY has been celebrated every year in Brooklyn since the unfortunate passing of MCA in 2012 (more info here).
"I wanted the overall theme to be in line with this year's election and corrupted some actual election propaganda for these designs. 'Slow and Low '16' is a mash up of Reagan Bush '84.
"The other deck is titled 'Still No One to Vote For…' The title is taken from the song 'Skills to Pay the Bills' by the Beastie Boys.  Again I mixed traditional campaign buttons and manipulated them with a Beastie Boys twist." Clever "I Like Mike" and "All the Way with MCA" buttons.
Art is a great way to make a statement or take a stance. Pick regular or goofy and then create your own skateboard graphic on BoardPusher.com.