Featured Deck of the Week: Sin on Sundays by Keith P. Rein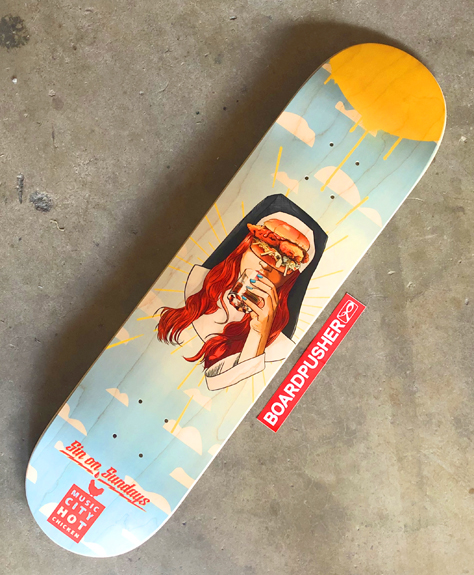 We're going to close out 2019 with the last BoardPusher.com Featured Deck of the decade from one of our favorite custom skateboard accomplices of the last ten years, Mr. ThePisforPenis himself, Keith P. Rein. We're also keeping it in state as this graphic was created for Colorado's own Music City Hot Chicken's service industry night, Sin on Sundays. What better way to exhibit such a celebration than a nun crushing a whisky? You can find out more about how Nashville hot chicken found a home in Colorado at mchcco.com and, as always, you can check out more of Keith's work at thepisforpenis.com, follow him on Instagram @thepisforpenis, and pick up any one of his inappropriately charming skateboard graphics at BoardPusher.com/shop/thepisforpenis.
We've thoroughly enjoyed helping you make your skateboard dreams come true over the last decade+ at BoardPusher.com and we can't wait to see what inspirational designs come through our presses in the 2020s. We appreciate your support and look forward to continuing to give you ours. Happy New Year!