Featured Deck of the Week: "Man's Worst Friend" by Ben Cooper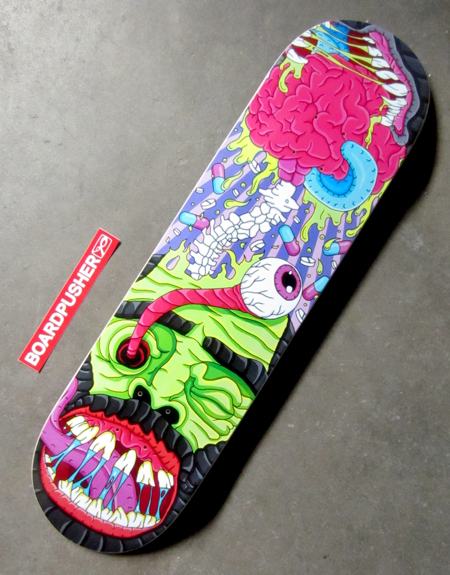 "I support and design my art around mental health and raising awareness." says Australian artist Ben Cooper, creator of this week's Featured Deck, "Man's Worst Friend". Ben went into great detail regarding the importance of his skateboard graphic:
"Depression, particularly depression in men still carries a bad stigma and society often sees people with depression as weak and inferior. My deck design shows the struggle of living with depression, the agony and pain of going through it and how the brain literally feels like it's being torn out of the body. Often there is little that can be done to prevent this feeling.
"The black dog in this artwork represents a metaphor for depression, representing the ever-present 'companion' of sadness and hopelessness. This black dog and its viscous relationship with the man in this artwork, to me, sums up the feeling of depression. The pills (medication) floating off in the background represent hope, at least a solution to this disorder. Although again, there is a bad stigma around taking medicine, sometimes it's what's needed to tame the black dog.
"I wish for this artwork to show depression in a new light – which is why I've used vibrant colours and clean lines, rather than keeping depression in the darkness. I want to raise awareness that seeking help and taking medicine is not a weak thing when you are dealing with depression. I want to get rid of the stigma surrounding depression and I want society to realise it is a chemical imbalance – an illness, like every other illness."
You can find this deck as well as more Ben's hand drawn skateboard graphics available at BoardPusher.com/shop/i_cant_draw. Follow Ben on Instagram @i_cant_draw_good to see what else he's currently working on.