Featured Deck of the Day: David Bowie Tribute by Heather Crawford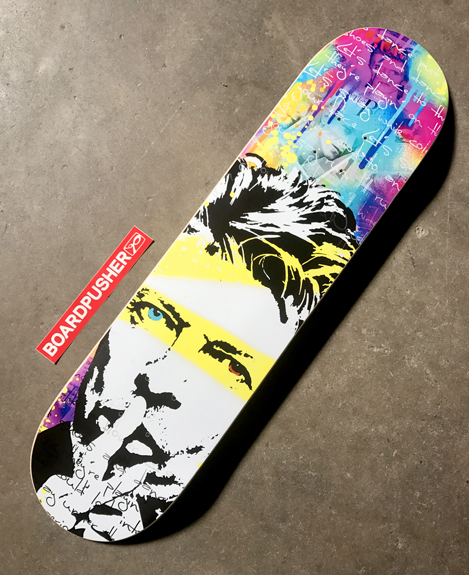 Today's BoardPusher.com Featured Deck is a David Bowie tribute graphic created by Heather Crawford. "This piece is actually a larger piece where I sourced real Bowie memorabilia from all over the world. It took me a couple of months but I found/bought multiple clippings from magazines and newspapers… some pieces from countries as far as Japan as well as a Bowie comic book, which was a super cool find.  I used digital copies of the real pieces as the backdrop and then layered over the rest of the design, the colors, portrait, lyrics etc.  I wanted it to be bright, colorful and unique.  This is a piece that will hang in my studio (currently being remodeled) and I really love how it turned out." You can follow Heather on Instagram @hauteoffthebrush.
Creating custom skateboard graphics made easy at BoardPusher.com.