Featured Deck of the Day by 5-Year-Old Leon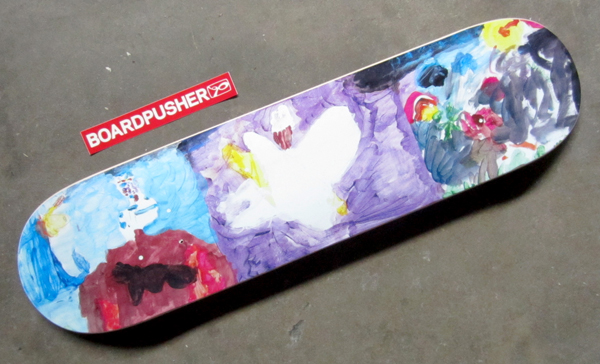 This BoardPusher.com Featured Deck was created by little grom Leon for his dad, Kevin. Leon's mom, Alex, let us know that each panel represents something Leon and Kevin like to do together. "Left Panel: there is a little yellow kayaker going down a waterfall. Then there are two mountains – Stone Mtn here in Atlanta and Mt Everest with it's flags behind it in the distance. Middle Panel: a skull and crossbones ('cause every board needs a good skull and crossbones). Right Panel: this is a camping scene with a bonfire and tent. According to Leon, 'You can't see most of it because it's dark out'." Alex and Kevin run the Frenchmill Studios design agency which you can check out here.
Get 'em hooked on creativity while they're young by designing skateboard graphics at BoardPusher.com. Click here to try our new Draw a Skateboard option, perfect for skateboarders and artists of all ages.