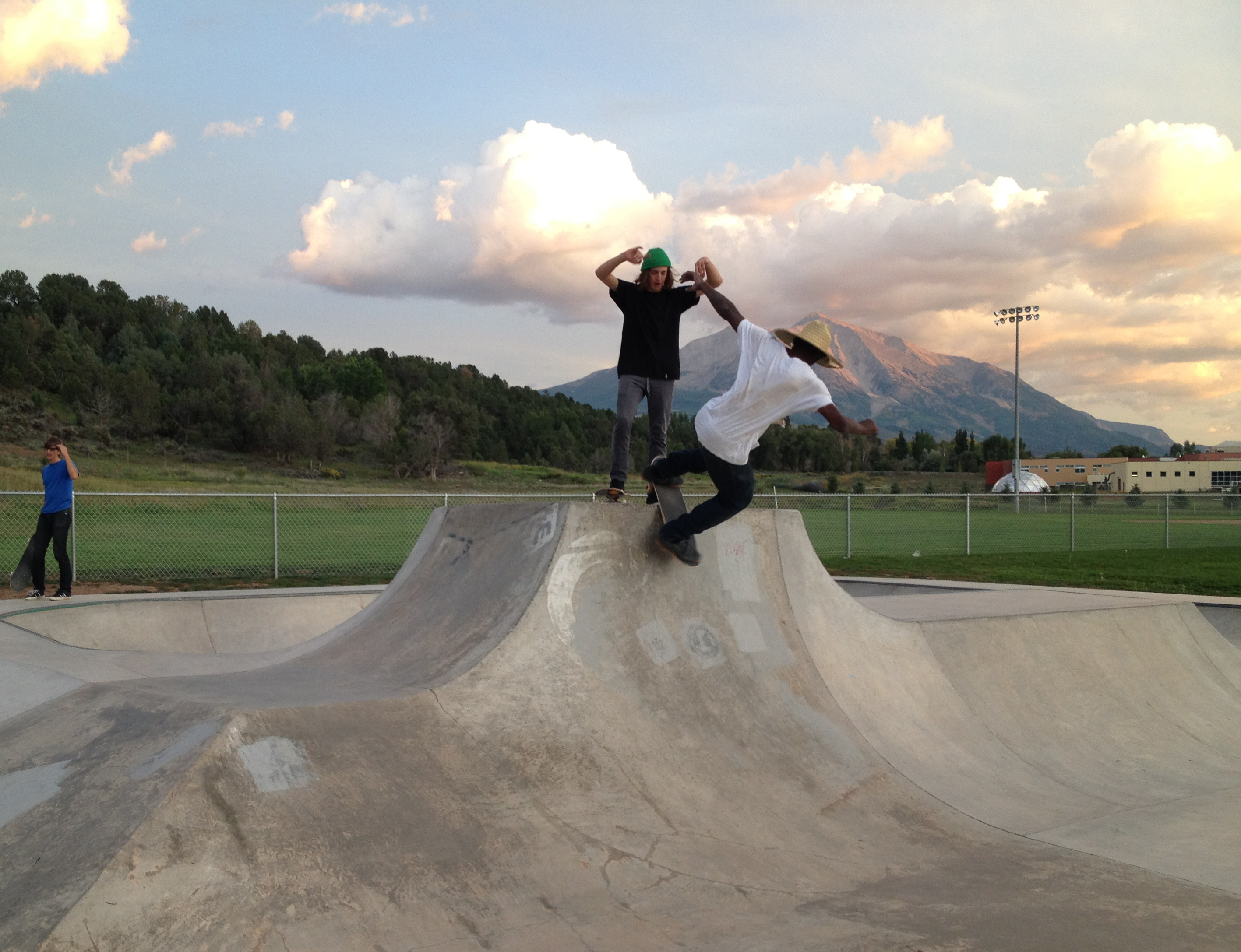 About a month ago, several BoardPusher.com employees and team riders packed our lives into a 7 passenger mini-van and roof case and trekked across the Colorado landscape to find sick parks and new spots to skate. What ensued was some quality skateboarding, drinking, partying, and odd run-ins with nature.
Our first order of business came the day before departing when we scooped up our latest team rider, Mitch Schmidt, flying in from Wisco.  The next day as Levi Huffman, Cameron Lawrence, Lee Wilson, and the BoardPusher staff slowly trickled in through the doors, we had a little session going on in our warehouse.  Even though Colorado is known for having 300 days of sunshine per year, this happened to be one of those 66 days of 2012 that was not and we were packing our gear into the van during a chilly drizzle.  In fact, weather reports were forecasting snow around our first destination.  Despite this news, spirits were not dampened and after we over stuffed the van, we took through the dreary Denver sky and headed west down I-70.
With a quick turn of luck, we pushed through the tunnels and the skies had cleared as we entered the mountains. Shortly after trying to mask his fear of tunnels, Mitch was napping with Lee (1.) before we even hit our first skate spot. We did finally arrive to Carbondale Skatepark (2.) late afternoon and met up with our boy Angus Morrison (4.).  There was a huge capsule that everyone was carving up and lots of big airs on the volcano.  Feeling well rested, I guess, Lee kept going even beyond sunset, which was entertaining for the rest of us since he couldn't see anything he was trying. We had some laughs at the expense of his falls.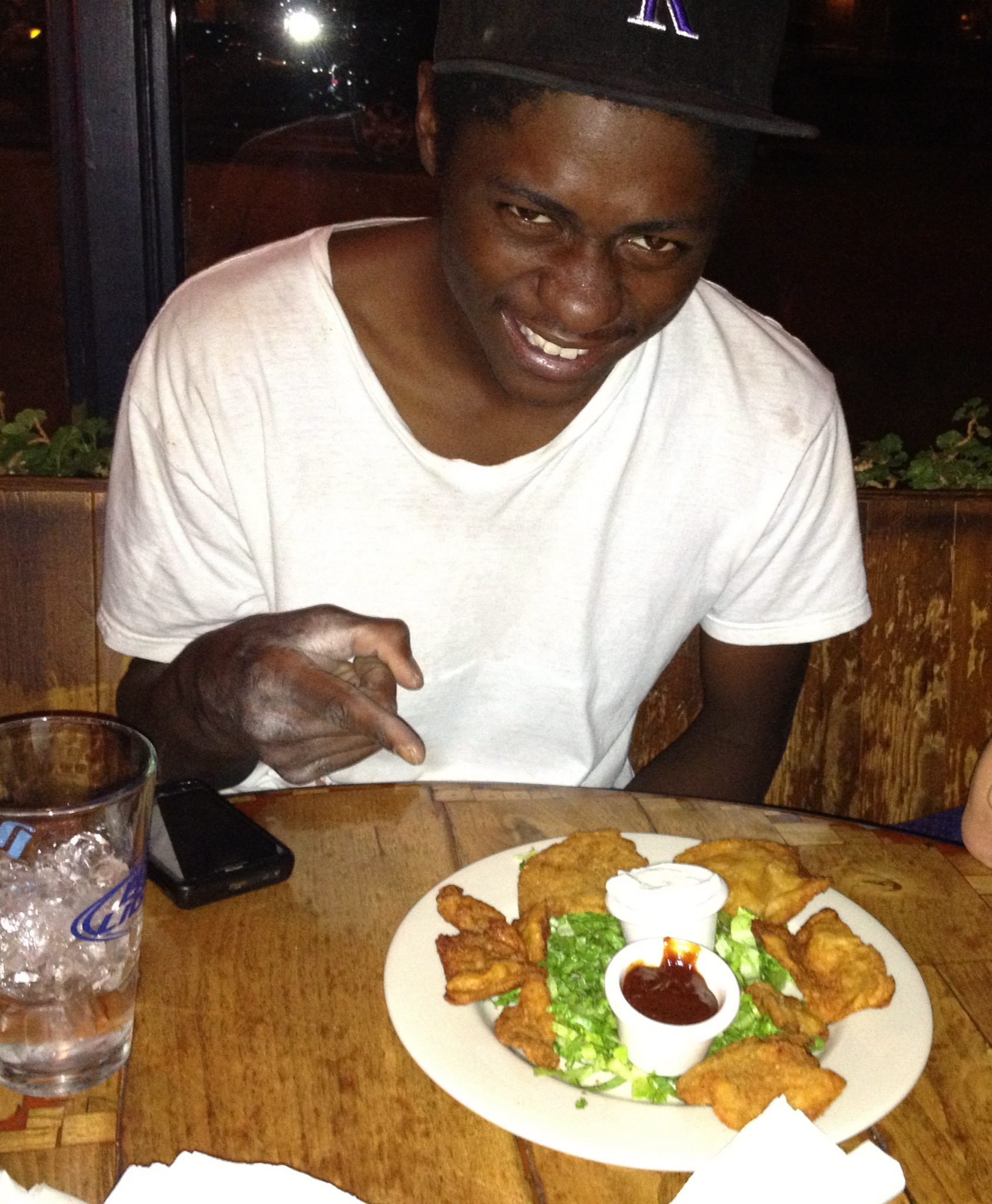 As a crew of 7 scraggly sweaty guys descended upon one of Carbondale's finest establishments, Lee found something on the menu he just had to indulge in… Rocky Mountain Oysters (10.).  Everyone (except me) had a delicious sample of some good ol' cow balls.  Filled up on bulls' danglies, our next stop was a camp site in Paonia. Since nothing is as easy as it sounds, getting there did involve some obstacles… well, one obstacle. Travelling 55 MPH (well, maybe) down a dark mountain road listening to Master of Puppets, we saw a dark creature barreling at us from the other side of the road. As we swerved, we still managed to get the side of our van head-butted by a black bear. Since damage sustained was minimal, we weren't exactly anxious to stop and see if we injured the bear or if we just pissed it off, so we pressed on. While most of us were more interested in attacking the 30 pack and bottle of tequila, our Art Director put his efforts into "chopping" wood (11.) so we had plenty of wet logs to tirelessly, yet successfully, burn for the rest of the evening.
Since I was the first to awake the next day, I allowed the rest of the crew to catch up on some sleep that they missed out on while I was snoring, and took a stroll down the river in Paonia witnessing the picturesque Colorado scenery (13.) We quickly packed up our gear and headed to the first stop of the day. Upon arriving at the tiny Delta Skatepark, we noticed that the most enticing part of the park, a stair set with a handrail, had been washed out by the city's sprinkler system (14.). Trying to make the best of it, we continued to skate, but not without some more sprinklers getting triggered to water down half of the park. As we gave up and started to hop back in the van even more sprinklers started spraying ensuring the entire park was now completely rained out.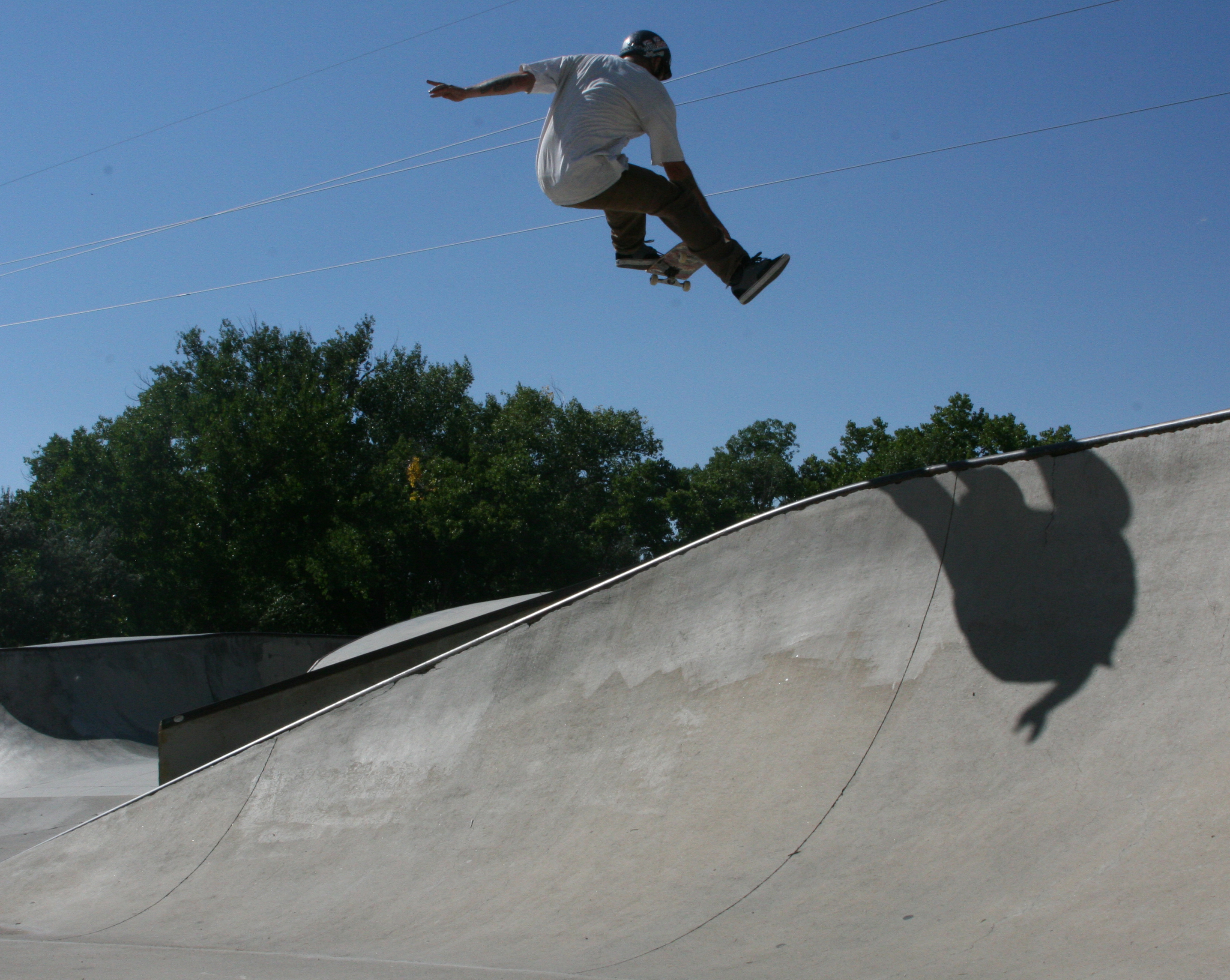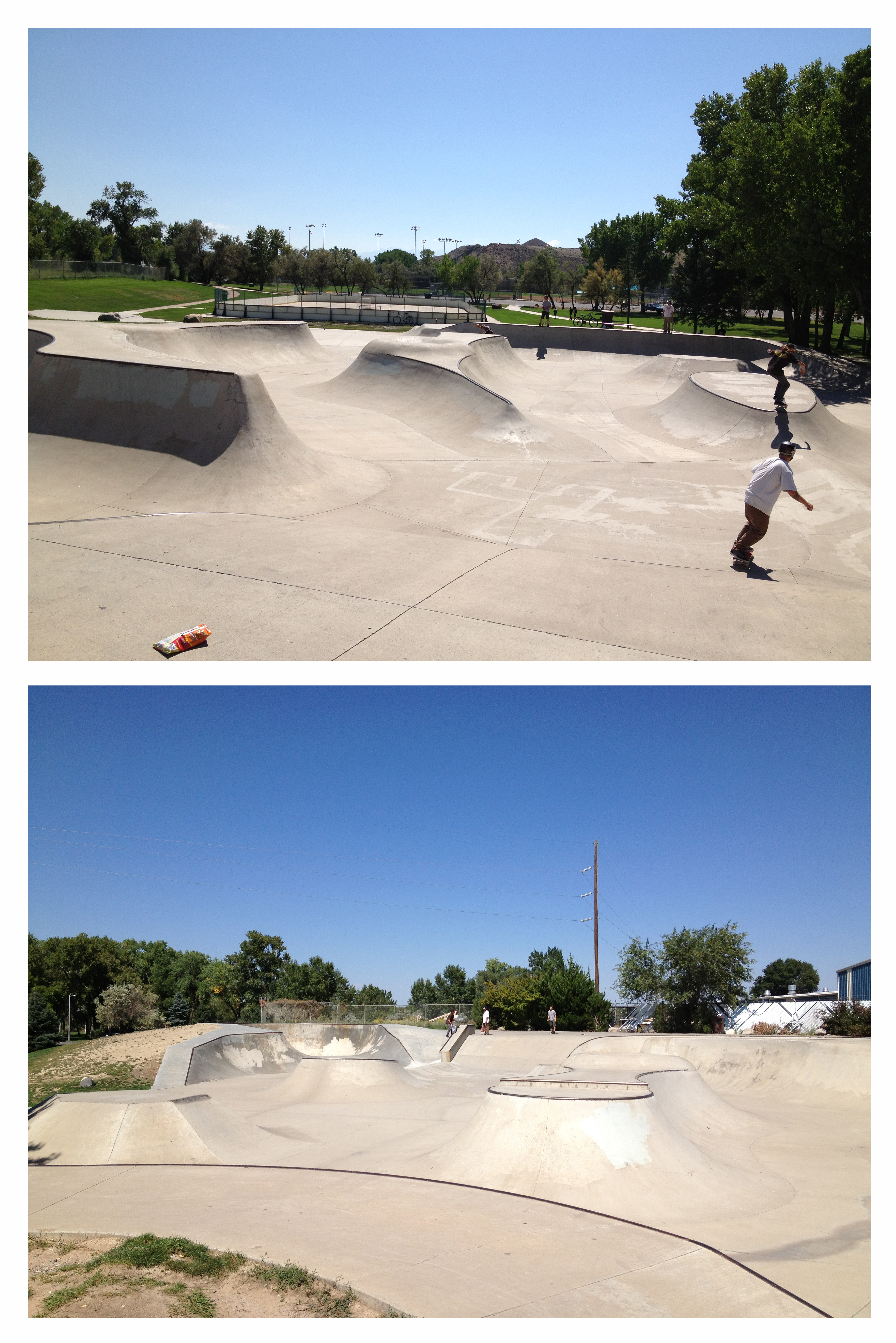 We jetted onto the skatepark in Montrose (17.) which proved to be a much better session. Cam and Lee decided to get trill and started tackling "King of the Road" assignments and Levi threw out a huge Benihana (20.).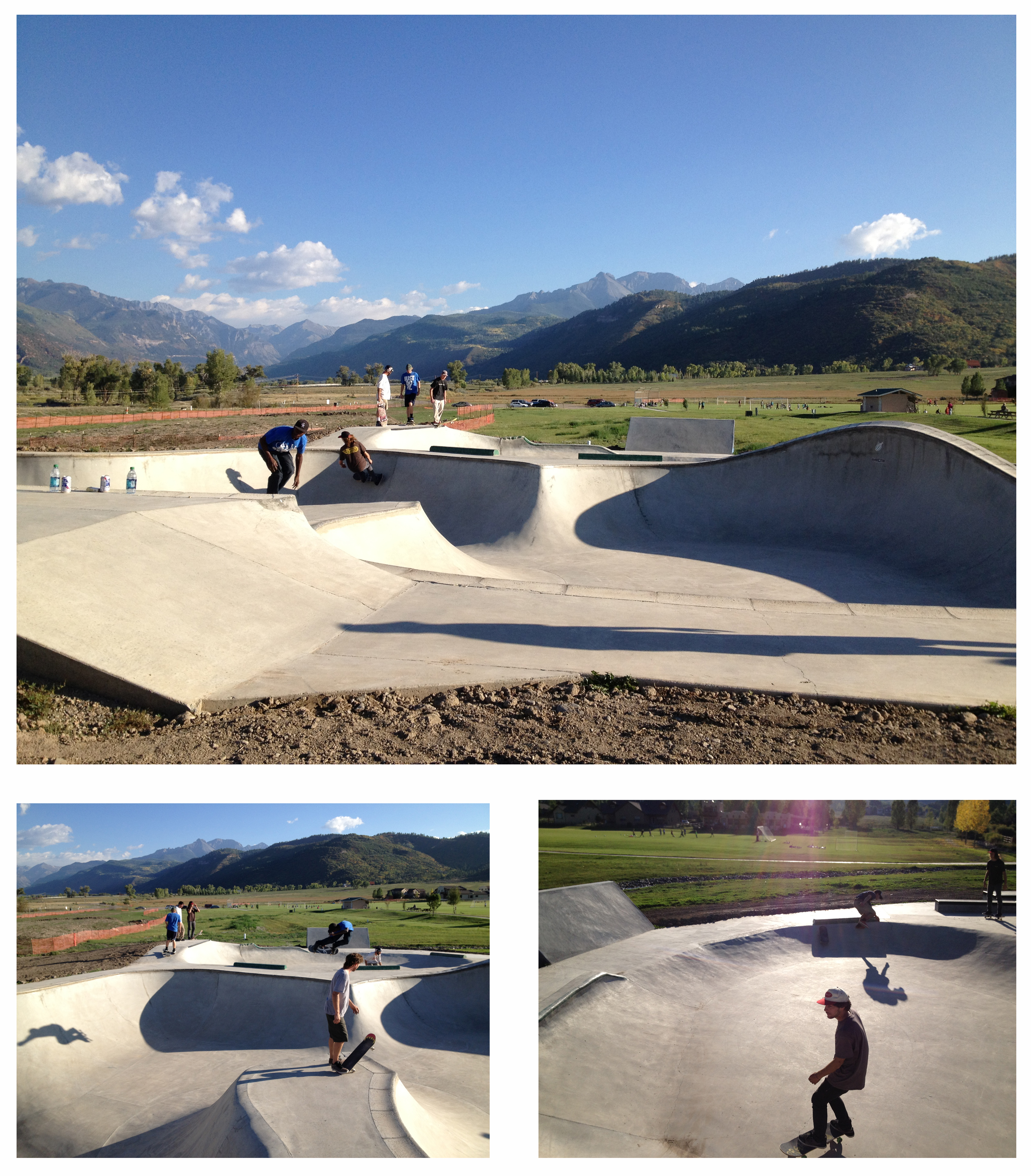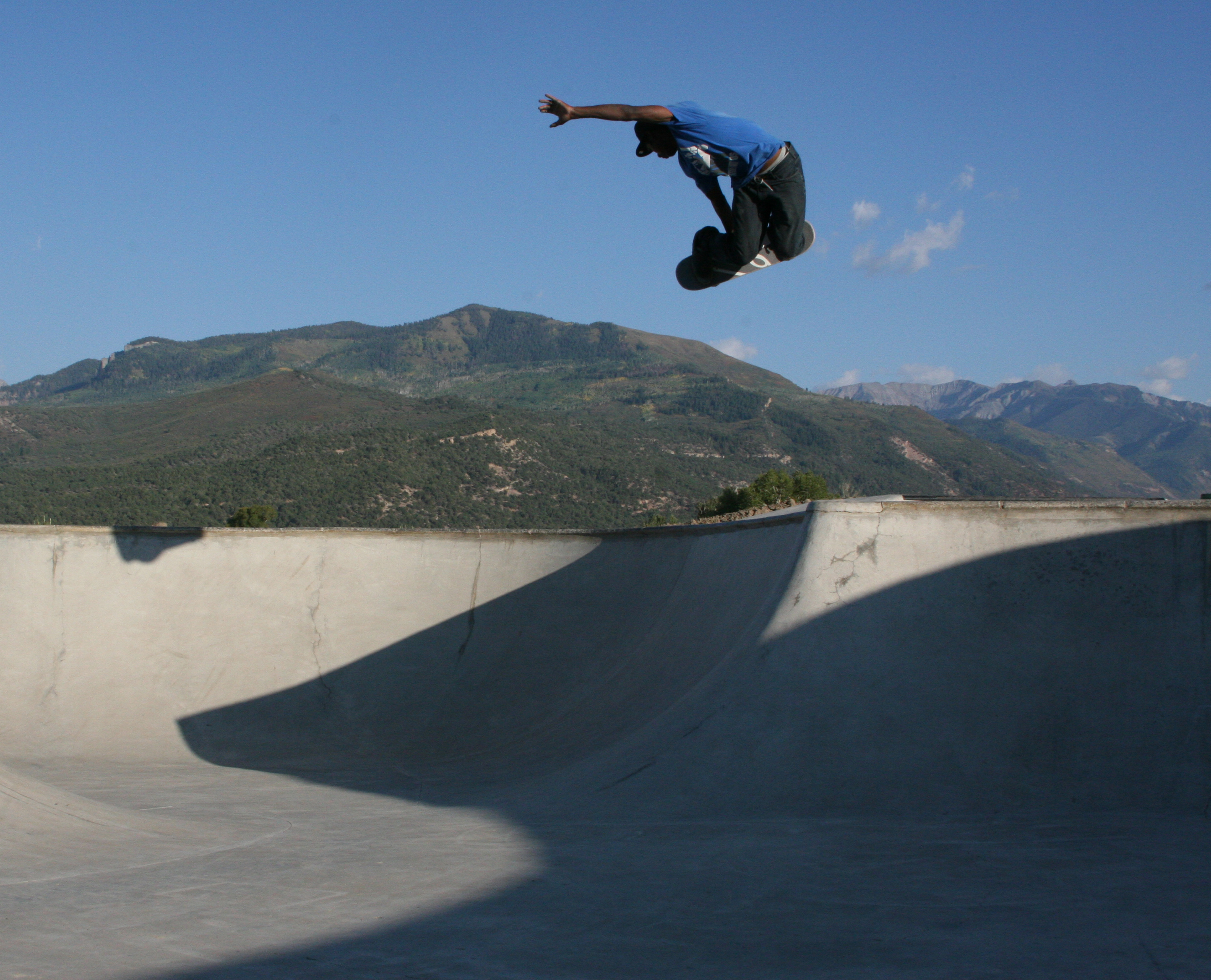 After we decided to keep the tents packed away and acquired a yurt (25.) at Ridgway State Park, we charged up our gear so we could get some good footage at Ridgway Skatepark (21.). This one seemed to be a crew favorite. Creative lines began flowing and even some friendly competition. Cam challenged Lee for the biggest tweak. While Cam laid down a pretty sweet melon over the hip (22.), Lee stormed over the hip with a gigantic air and tweaked it so hard (23.) that I got back spasms just from watching it. Other than big bowl airs, Mitch and Levi were also charging the wall out of the little bowl (24.). After a clean session, once again we hit up the liquor store and also picked up some sausages to grill over at the yurt. Cam helped add some extra smokey flavor to the fire by walking in it (27.) then tried to get everyone drunk by playing his favorite drinking game… that he had just made up (28.). For the second night in a row Lee had another fit of sleepwalking which had awoken our Art Director when Lee was standing over him and had our AD begging "Please don't take your pants off." As for a wildlife moment of this night, Cam slept in his one man tent outside the yurt and was hassled by raccoons scratching at the walls while coyotes howled in the distance.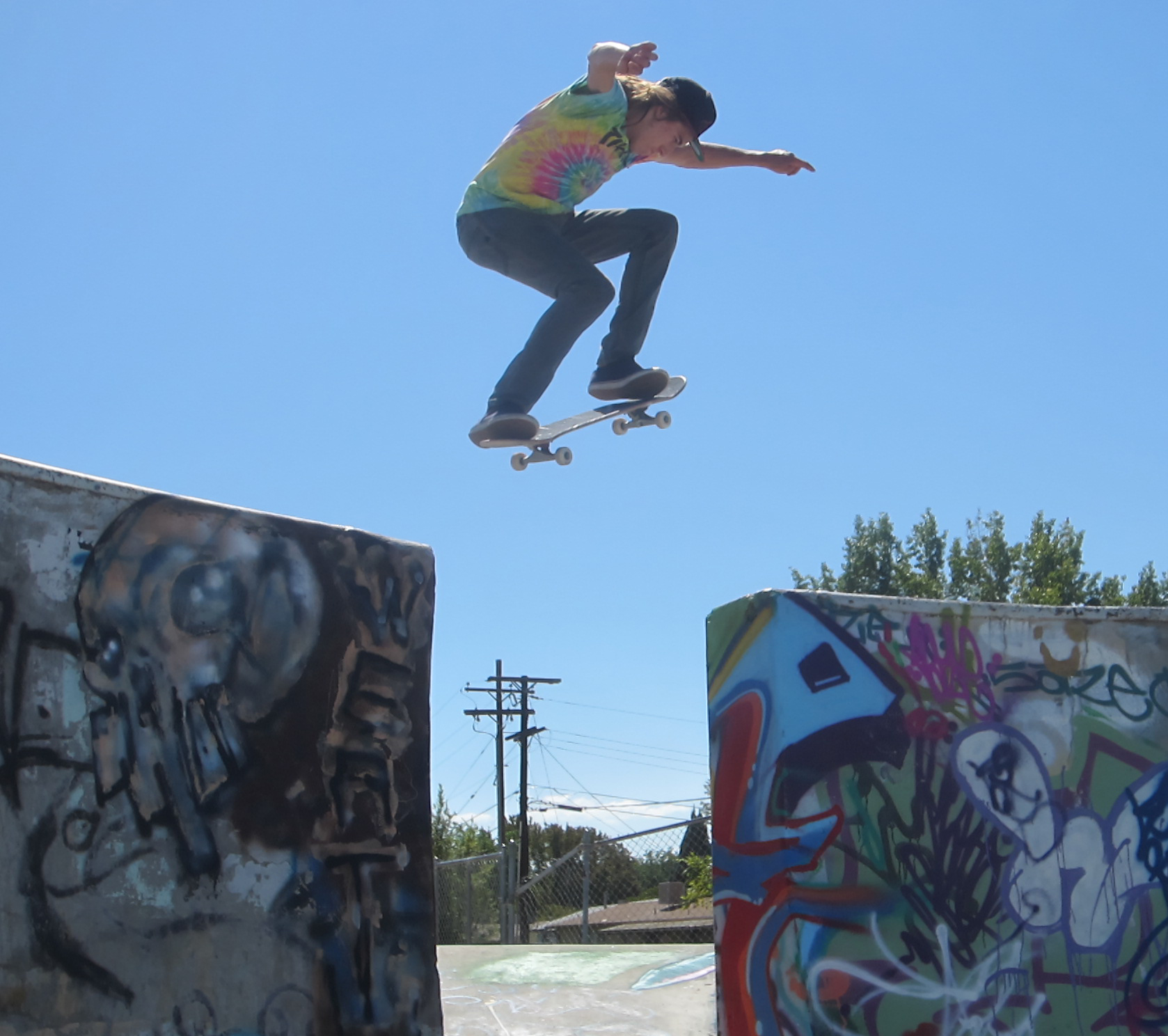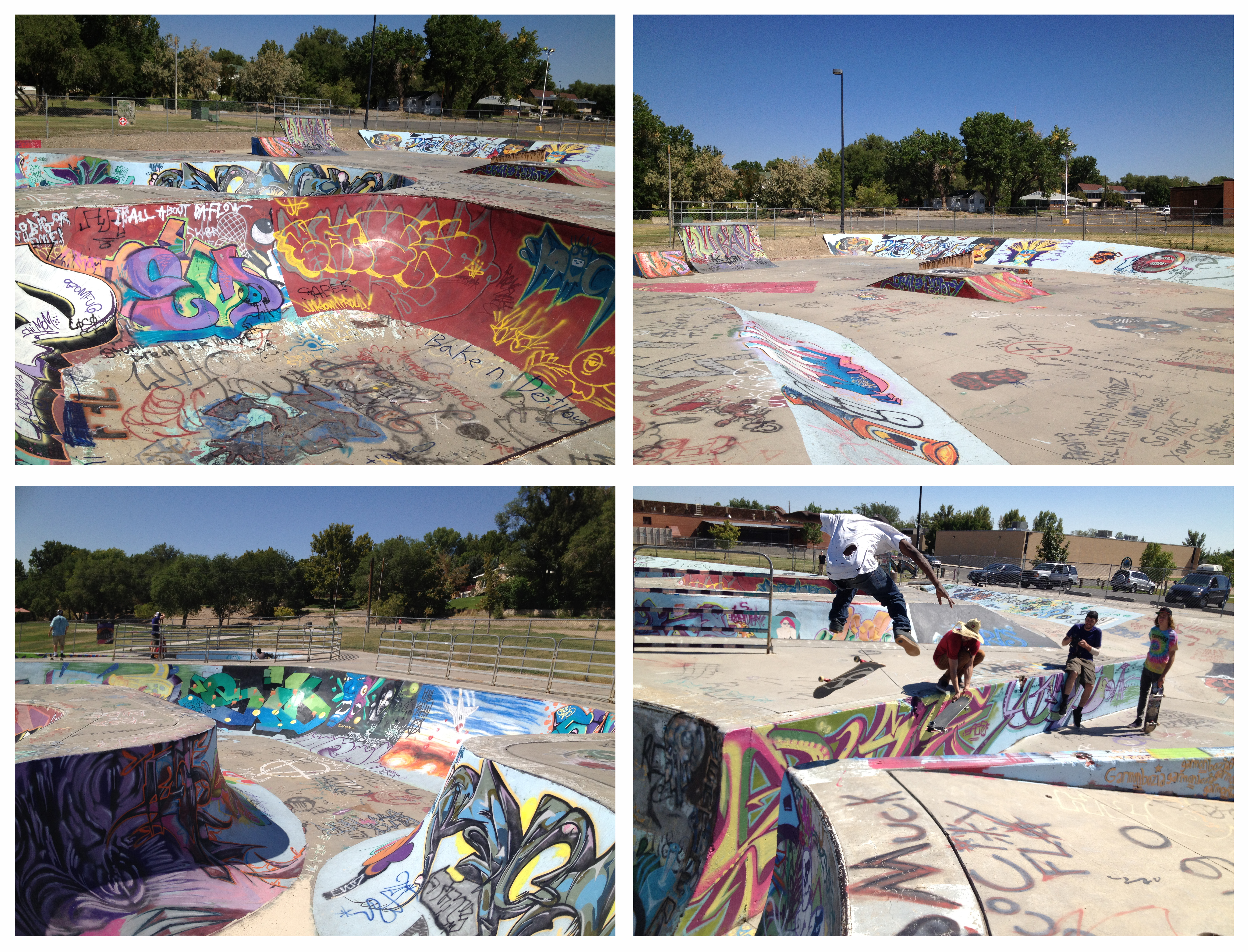 Awaiting us the next day was another long drive which Levi filled by crushing Tetris on his Gameboy (29.). The first stop once we entered Grand Junction was supposed to be the skatepark, but we turned around and opted to grab some burritos and holler at the soccer moms. We headed back to the park which everyone started off a little hesitant about. Maybe it was waiting for the burrito hangover to wear off or maybe it was just until someone started hitting the channel gap over the "Death Bowl" (34.), but spirits were eventually lifted and GJ Skatepark (30.) turned into a pretty rad session.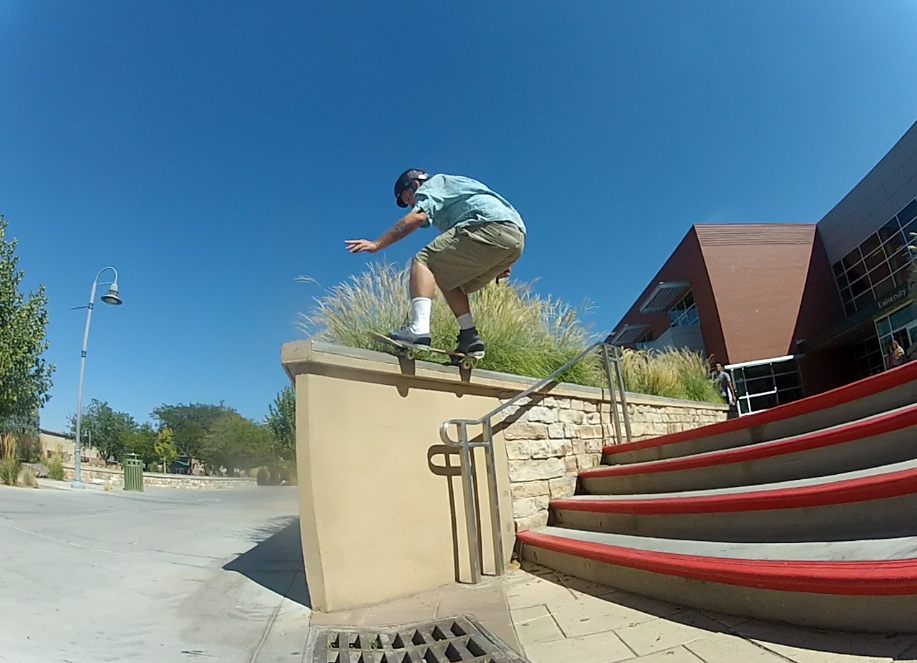 Just a short drive over to the Colorado Mesa University campus left a few people in the van thinking that security would quickly make this idea a bust. After a few of us didn't return for a while, the rest joined in to find out not only was security not stopping us, but their were skateboarders all over campus and a lot of the ledges even had metal siding. This was something Levi took advantage of including a 30 foot 50-50  over a grass gap (37.) and a grind over the the rail and stairs in front of the campus book store (36.). Cam and Lee chose to take part in some college living by slacklining with a few of the campus co-eds (39.).
When we left the CMU campus we headed for the Rifle Skatepark. This place was filled with enthusiastic kids who switched between watching and cheering and trying to show us what they had. Unfortunately, Rifle led to a few broken decks, however kids were stoked to take them home as souvenirs (42.), but only after Lee and Levi autographed them.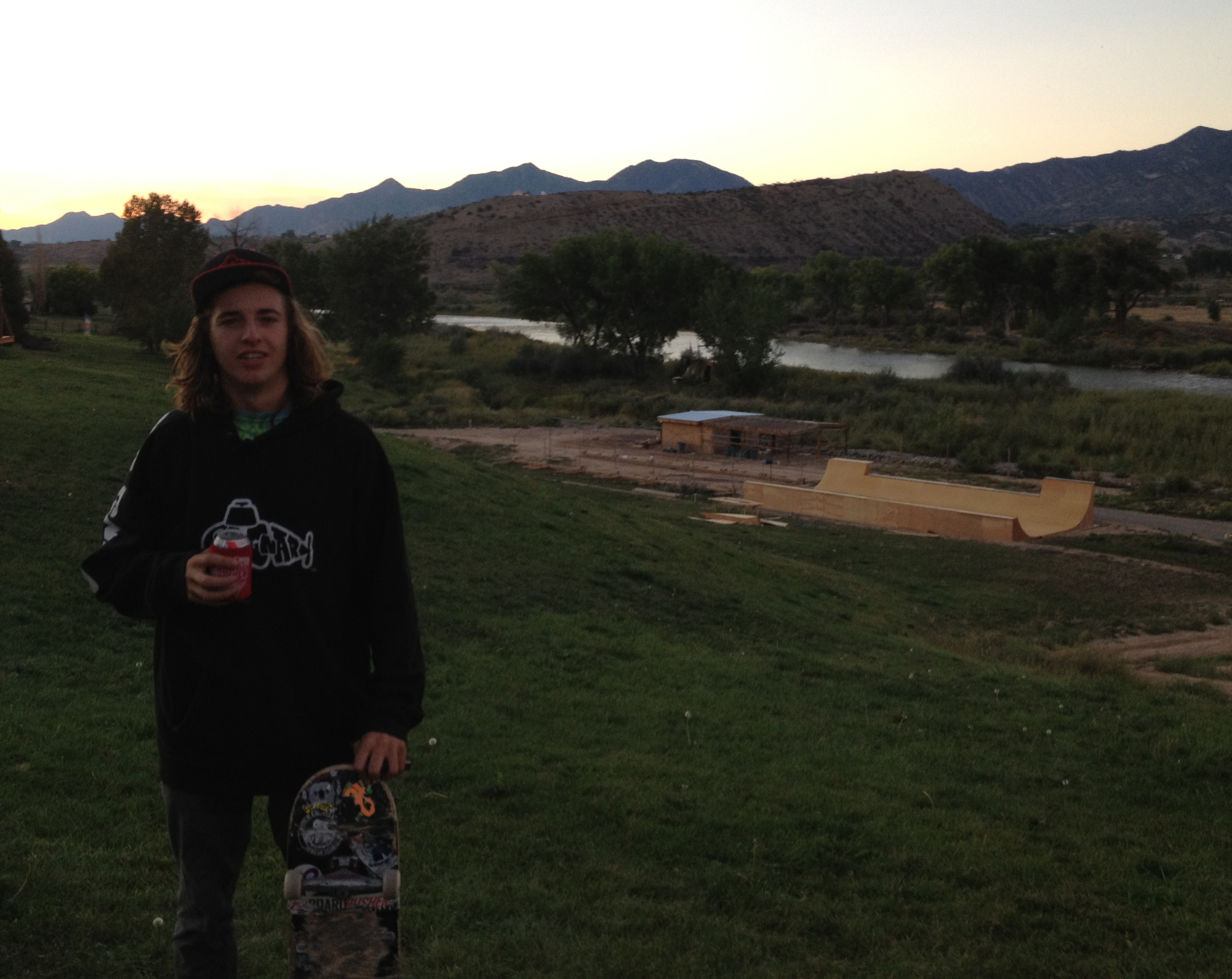 We were pretty anxious to get to our next destination, the Coalatree oragnic farm out near Glenwood Springs. Immediately, we were met by angry turkeys (43.), a free roaming goat (51.), and hoards of mosquitoes. We were also welcomed by Matt Guerrero whom we had skated with at Carbondale, and he led us to the real prize of the evening… a gigantic mini-ramp right next to the Colorado River (44.). Everyone ran down the hill to participate in an evening session that seemed it was going to be cut short by nightfall. However, after putting back a few more brews, grilling up some burgers topped with some fresh Coalatree veggies, we scoured the house for some lights and drove the van down the hill to shine the high beams and set ourselves up for a killer night session (49.). This one ended as we all watched Lee strip down to his skivvies (50.) and still tear the ramp a new one. This did not conclude the evening, though. Knowing it was our last night, we took to the Coalatree house and proceeded to engage in whatever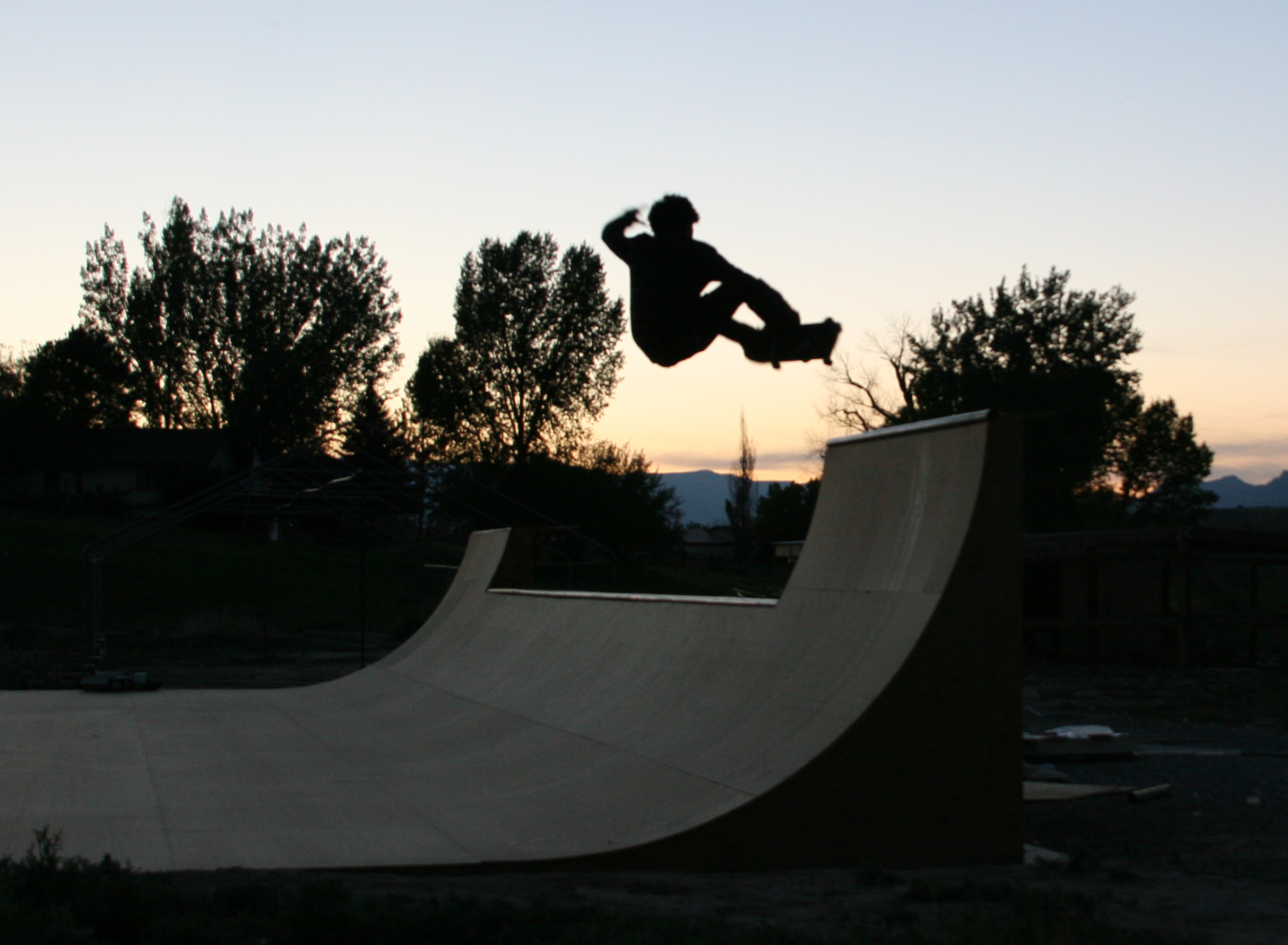 idiotic activity we could think of: parallel bar gymnastics in the rafters, beating up the new guy (me), petting the escaped large horned bull (52.) and of course there was more fire walking (53.) and nudity.
We struggled to wake up (55.) for one more morning session (56.), and then headed out to the Coalatree warehouse. There they hooked us all up with some hot off the grill deliciousness and some Coalatree shirts, as well.  Partied out, exhausted from skateboarding, and with speakers that got destroyed in the melee, the ride back to Denver was pretty silent, but with a certain sense of contentedness.