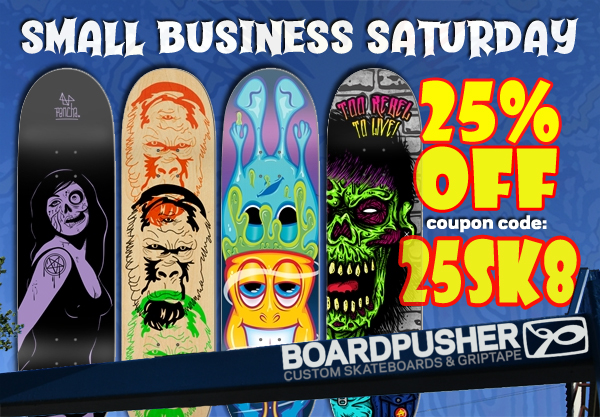 It's downright impossible to make a purchase on BoardPusher.com without supporting a small business or independent entrepreneur and you can use coupon code 25SK8 to get 25% off your Small Business Saturday order.
Try customizing a pre-designed background on our Personalize page or browse thousands of skateboard graphics on our Artists Shop page. All the designs were created by one of hundreds of independent artists and/or skate companies exclusively featured on BoardPusher.com. You can even find an artist or skate brand operating near you by using our Shop Local Finder.
We offer a unique opportunity as BoardPusher.com is the only skater owned and operated custom skateboard company that offers other skateboarders and artists the ability to create and sell their graphics through their own online shop on our site. If you have an idea for a skate crew/brand/company and want to begin selling your designs or adding customizable backgrounds then check out how you can get started here. We're happy to answer any further questions you may have, so just contact us.